The best products and gear that are good for you and the planet
Reviews and recommendations are unbiased and products are independently selected. Postmedia may earn an affiliate commission from purchases made through links on this page.
Article content
Whether you're taking advantage of summer in Canada or jetting off to Europe, the right gear can make or break a trip. When choosing the right products, both function and fashion play an obvious role in purchase decisions — but what about the production of these products? It's a little counterintuitive to explore the world in gear that is simultaneously hurting it. In this list, we'll explore sustainable essentials that will have you looking your best with quality products that don't hurt the environment. 
Article content
We've taken into account the manufacturing of the products and company ethics and values to show you the very best in quality gear that also does good. Many items on this list come from companies that are certified B Corp, which is one of the highest levels of sustainability certifications in the world. B Corp (which stands for Benefit Corporation) is a type of for-profit corporation that operates for the benefit of stakeholders such as employees, customers, the environment and society as a whole. 
Article content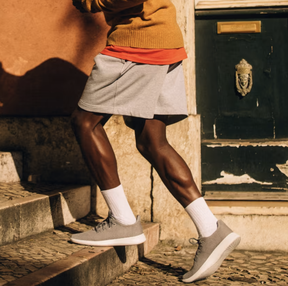 Allbirds shoes
Key sustainability qualities: 
Certified B Corp

Use of natural materials such as merino wool, eucalyptus tree fibre and sugarcane

Carbon offsetting with the aim to be almost zero by 2030

Implementation of sustainable practices throughout their supply chain
What + why to buy:
Whether you're walking the cobblestone streets of Rome or running trails in British Columbia, comfort is key when travelling. If you're looking for a hybrid shoe that can be taken on the trails but is also great for a long day of walking on pavement, the Tree Dasher 2 is your shoe. For a more casual look that is great for those long travel days or running errands in the city, the Tree Runner is the perfect fit. Both are available in men's and women's. 
Article content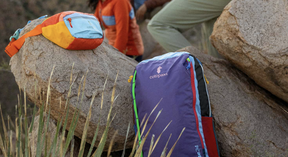 Cotopaxi
Key sustainability qualities: 
Certified Climate Neutral 

Uses sustainable materials such as recycled polyester, organic cotton and repurposed fabrics

Commitment to giving back to the community through the Cotopaxi Foundation, which supports poverty alleviation and environmental initiatives

Fair Trade Certified 

Certified B Corp 
What + why to buy:
If vibrancy and sustainability are top of mind for your travel wardrobe, then Cotopaxi is the brand for you. The Del Dia line is unique to the brand as it's made from 100 per cent repurposed fabric using the leftover materials from other larger companies' production lines to avoid landfill waste. The flashy Hip Pack is perfect for wandering the city while the 35L Travel Pack makes a great carry-on. It has a unique netted clothing compartment, laptop spot, lots of other pockets and a rain cover. And to top it all off, the Trico Hybrid Vest (available in men's and women's) will keep you warm while standing out from the crowds.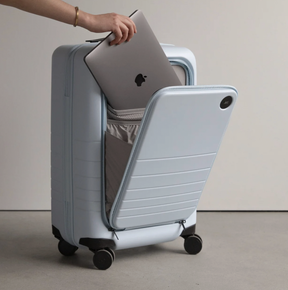 Monos
Key sustainability qualities: 
Use of recycled materials in their luggage, including recycled polycarbonate and recycled aluminum

Climate Neutral Certified 

1% for the Planet member
Article content
What + why to buy:
Stylish luggage has been all the rage lately. Finally, companies have figured out how to pair function and fashion and Monos has done this without sacrificing sustainability. The genius design of the Carry-on Pro and the Carry-on Pro Plus allows you to open the front compartment of the suitcase and slide out your laptop and chargers to then quickly pop it into the overhead compartment on a plane without having to open the bag entirely. Inside, a compression frame allows you to pull two straps and compress clothing tightly as well. The Check-in Large has a similar design but without the laptop compartment and both come with handy foldable laundry bags and a tool to remove scuff marks. For even more compression and organization, the Compressible Packing Cubes are another smart design to pack into either of the above bags.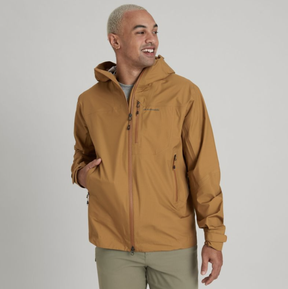 DUER clothing
Key sustainability qualities: 
Use 85 per cent plant-based fibres across their fabric collection, including eucalyptus, wood chips

and cotton

DUER's mandate is to encourage the world at large to consume less, by encouraging consumers to own fewer, well-made pieces by 

offering products that aren't trend based, with the strength and versatility to perform across activities and occasions

Company-owned primary factory in Pakistan with the ability to oversee safe, ethical working conditions
Article content
What + why to buy:
The No Sweat Pant (available in men's and women's styles). Crafted in DUER's bestselling high-stretch fabric that's designed to feel like your favourite sweats with the look and versatility of regular pants. "No Sweat" fabric features 96 per cent plant-based fibres including eucalyptus-based TENCEL which is naturally moisture-wicking and antibacterial for more wears and fewer washes. Picture breathable, lightweight fabric, perfect for summer travel.
Kathmandu Outdoor clothing
Key sustainability qualities: 
Commitment to transparency and continuous improvement through sustainability reporting

Integration of circular economy principles

Net zero environmental harm 

Has programs in place to support communities in need

Certified B Corp
What + why to buy:
Originally started in New Zealand, Kathmandu is in its first year in Canada and brings a sustainable outdoor clothing line perfect for Canadian adventures and international travel. The Sun Stopper is a light hoodie that gives just enough protection from sun damage without adding too much to your body heat while the Storm Chaser 3-layer jacket's durable design will keep you dry in the rain while shielding you from the wind. Both are available for men and women.
Article content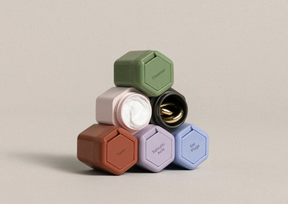 Cadence Travel Containers
Key sustainability qualities: 
Uses recyclable packaging made from 100% recycled cardboard 

Engages in beach cleanup efforts 

Reduces the use of single-use plastics throughout all of their products 
What + why to buy:
Instead of going to the travel section of the drugstore and buying small single-use plastic toiletries, purchase some Cadence products so you can refill your own reusable containers time and time again. Whether it's medication, shampoo or creams, you can build a system of containers that works for you and put them in the dishwasher when you get home.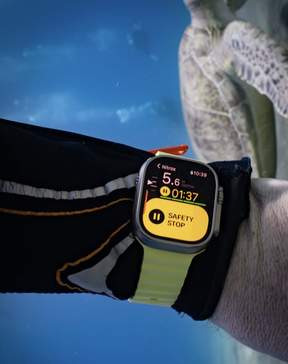 Apple Watch Ultra
Key sustainability qualities: 
Packaging is responsibly sourced and 100 per cent recyclable

Uses USB-C instead of the traditional Apple charger to reduce e-waste 

Apple has set a goal to be 100 per cent carbon neutral across its supply chain by 2030

Apple as a company has started to use recycled and renewable resources and has introduced recycled aluminum and tin into its products 
What + why to buy:
A smartwatch that does it all can certainly come in handy while on the trail, in the water, or wandering the city. The Apple Watch Ultra is rugged and has numerous functions including a dive computer. The crisp display allows it to be seen deep in the water or under the shimmering sun while hiking. SOS modes, maps, and GPS abilities keep you safe no matter where you are. 
Article content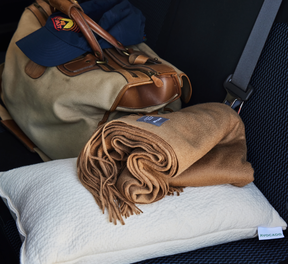 Avocado
Key sustainability qualities: 
Fair Trade Certified 

A "Best for the World" B Corp 

Responsibly sourced organic materials 

Climate Neutral Certified 

1% for the Planet member
What + why to buy:
You may be wondering why a mattress and bedding company has made a travel essentials list, but that's where the Avocado Organic Travel Pillow comes in. The certified organic and certified vegan travel pillow is incredibly comfy (and much better than an airline pillow) and exactly what your head is looking for on those long flights.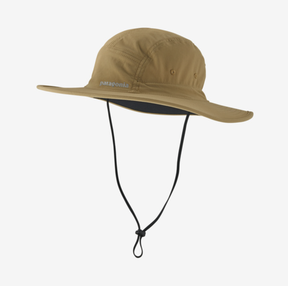 Patagonia 
Key sustainability qualities: 
Has a robust repair and reuse program for their clothing 

1% for the Planet member

Through the Patagonia Purpose Trust and Holdfast Collective, all profits after operational costs are donated to climate action and conservation initiatives

Certified B Corp
What + why to buy:
We would be remiss not to mention one of the founders of conservation in the outdoor clothing industry. For years, Patagonia has raised the bar time and time again and is extremely dedicated to conservation and climate change mitigation. Patagonia's quality and Worn Wear clothing repair program make any of their products a smart choice that will last. Notably, the Quandary Brimmer is great for keeping the sun off your face. The Quandary Convertible Hiking Pants are perfect for hiking when the mornings are cool and the day is hot. And for those wetter climates, the Torrentshell 3L Rain Jacket will keep you dry and comes in a wide variety of colours, is Fair Trade Certified sewn and available in men's and women's. 
Article content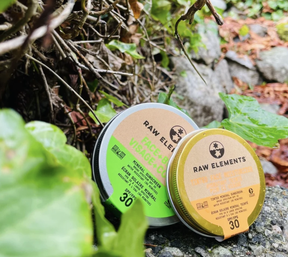 Raw Elements sunscreen + skincare 
Key sustainability qualities: 
All products are reef safe and do not harm coral reefs or the environment

Educate on sun protection awareness 

An industry pioneer that faces the change rather than reacting to it 

1% for the Planet member
What + why to buy:
Most reef-safe sunscreens feel pasty and almost zink-like, but not these. Raw Elements has mastered its products to feel like skincare rather than sunscreen, especially the Tinted Facial Moisturizer. Their reusable tins minimize waste and all ingredients are either NPA Certified Natural or USDA/NOP Certified Organic, non-GMO certified, and Certified Cruelty Free. For the perfect combo, add a tin of Face + Body as well. 
Best walking shoes for everyday and travel

The absolute best over-ear headphones on the market
Shopping Essentials is a new category that features highly researched products, new and exciting launches or behind-the-scenes info — learn more.